TOUR HIGHLIGHTS
BWINDI IMPENETRABLE NATIONAL PARK is situated in south western Uganda, on the edge of the Western Rift Valley (Albertine rift) and is shared by Kanungu, Kabale and Kisoro districts. It is 331 sq km in size and on an altitude range of 1,160 metres (Ishasha gorge) to 2,607 metres (Rwamanyonyi Peak). The annual average temperature range is 7°C to 20°C.
SPECIES DIVERSITY: Bwindi is home to 326 gorillas, almost a half of the world's population of mountain gorillas. There are also 346 species of birds and over 200 species of butterflies. This afromontane forest has dense under storey of fern, vines and shrubs. About 324 tree species have been recorded here, 10 of which occur nowhere else in Uganda. Bird Watching: Bwindi is the bird watchers haven! It holds 346 species of birds and contains 90% of all Albertine rift endemics, difficult or impossible to see in any other part of East Africa and seven IUCN red data listed species. An experienced bird watcher can identify up to 100 species in a day!
DAY 1: ENTEBBE – BWINDI NATIONAL PARK (570KMS / 11HRS) – D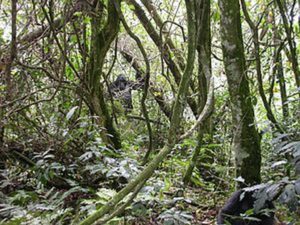 You will be picked up at your place of overnight stay in Entebbe; you will have a stopover at the Igongo Cultural Museum for a tour.  This is the traditional home of the cultivators and cattle keepers in south western Uganda – Banyankole. The museum is divided into various 6 sections – Skills, Family and Community, Clans and Social Organization, Legends, Political and Leadership and Famous people. After lunch at the Igongo Cultural Museum Restaurant thereafter proceed to Bwindi National Park arriving in the evening.
DAY 2: GORILLA TRACKING  – B, L, D
Arise early today at 6:30am for breakfast and prepare for the highlight of your safari, an unforgettable encounter with the gentle giants of Bwindi!  You will be transferred to the national park offices and go through the formalities of track preparation and your guide will brief you on gorilla etiquette.
Tracking the gorillas through the thick undergrowth can be a strenuous task, albeit in the end, a rewarding one. There can be a lot of steep gradients to conquer therefore you need to be relatively fit.
Led by a park ranger, the actual trek to the gorillas' resting place can be between 4 – 8 hours. Upon sighting the gorillas, you spend the allowed one hour with them as they go about their daily life; feeding, moving, playing, raising their young and sometimes wrestling by the juveniles – it is a totally unique and unforgettable experience!
Please remember to bring your passport for registration, appropriate, water proof hiking boots and a light rain coat. To protect from stinging nettles, we recommend long pants and long sleeved tops. A pair of old gardening gloves can help grabbing onto the vegetation while most hotels/lodges provide a walking stick that come in very handy especially when hiking downhill. A small waterproof backpack is an excellent idea to carry a light snack, bottled water as well as protection for your camera.
Afterwards, you hike back to base from where you will be transferred back to the lodge for a  well deserved shower, some time to relax and a great dinner.
Please note that if you need help up the hike there are guides/ porters during the briefing session that can be hired to assist make your tracking easier up hill at an extra USD 20.
DAY 3: BWINDI NATIONAL PARK – ENTEBBE (570KM/ 10HRS)        B, L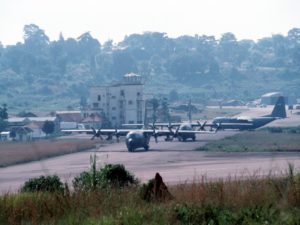 Breakfast and then transfer back to Kampala with a stopover at the Equator, watch the demonstration of  the  northern  and  southern  hemisphere  thereafter  proceed  for  lunch  at  Igongo  Cultural  Museum Restaurant before proceeding to Entebbe. Depending on your flight time, you will be transferred to the airport for your onward flight back home.
Recommended – if you have an early afternoon flight out of Entebbe – please note that there are flight through  aerolink  Uganda  departing  from  Kihihi  at  09:45hrs  arriving  at  Entebbe  Airport  11:25hrs. Option for afternoon flight at 14:05hrs arriving in Entebbe at 15:55hrs.